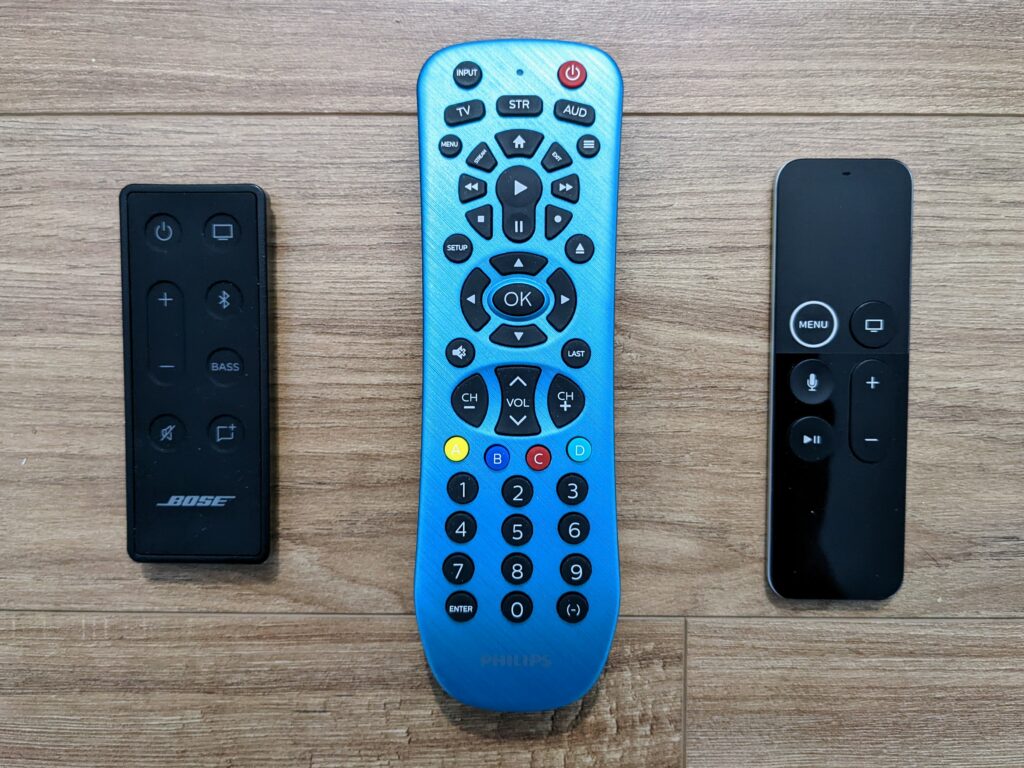 After moving into our new house I we switched our trainer TV's audio setup to a Bose Solo Soundbar Series II from Costco for $159.99. It's a cheaper, basic soundbar that connects via TOSLINK, but sounds plenty good for TV/movie watching while pedaling away during the winter.
One of the really nifty features of the Apple TV is its ability to learn the infrared (IR) remote control signals of a another device so its remote can control the volume of receivers and such. This works out wonderfully, as with HDMI ARC, from the one Apple remote we can wake up the Apple TV, wake up the TV (and have it switch to the correct input), and control the volume of the soundbar.
Unfortunately, the learning process just didn't work with the IR remote that comes with the soundbar. For whatever reason the Apple TV wouldn't detect the IR signal being sent and the learning would fail.
Our previous setup — an old Yamaha home theater receiver and some Energy surround sound speakers — had no problems with the Apple TV. Once set up it was super convenient, so I wanted this in the new house.
I was able to solve this by buying a cheap universal remote, setting it up to control the soundbar, and then using it to the Apple TV. A bit of hoop jumping, and it cost an extra $10, but to me that's worth the convenience.
Specifically, I bought this Philips SRP3249B/27 via Amazon, programmed the AUD button with code 2706 (Sound Bar, Bose), then used that to program the Apple TV via Settings → Remotes and Devices → Volume Control → Learn New Device….
When going through the learning process on the Apple TV I noticed an interesting quirk: If I followed the on-screen instructions exactly and held the remote button until the progress bar filled up, I would have to press and release the button on the Apple TV remote repeatedly to keep changing the volume. That is, each press/release turned it up or down just one notch on the soundbar.
By repeatedly pressing the button during the learn process the Apple TV learned something slightly different and then holding the button on its remote resulted in the soundbar continually increasing/decreasing the volume as the button is held.
Either way, it's now working all from the Apple TV remote and all is good again. It just took an intermediate "universal" remote to bridge the gap.