Last updated on January 29, 2022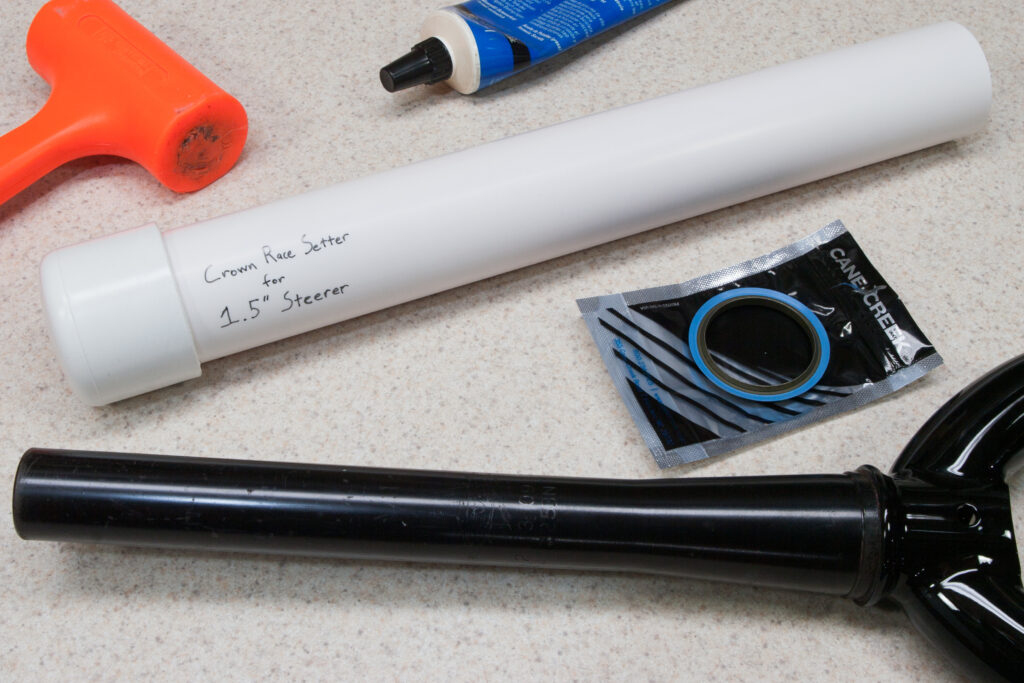 The Salsa El Mariachi Ti has a headset for a tapered fork, thus when I picked up a rigid fork for it (more on that later) I wanted to be sure to get a tapered one. Lacking a proper setter I decided to make one out of PVC pipe. Schedule 40 PVC pipe, 1.5″, has an average inside diameter of 1.590″, which is perfect for fitting over the 1.5″ bottom of a tapered steerer tube.
Home Depot sells 2′ sections of pipe, so this, plus a cap, were purchased for making the setter. I cut the pipe to 14″ long (same as a Park Tool CRS-1) to ensure a nice, square end then fitted a cap on the other end. After cutting a slight inside bevel on the pipe this worked fairly well for hammering on the Cane Creek 40-CrownRace-52/40-Steel race (really, a bearing seat and seal) which is the matching part for the headset on the bike.
This did not work as easily as setting a traditional 1-1/8″ headset using a metal tool, but after a few false starts it did eventually work. The PVC felt somewhat flexible and I believe was absorbing some of the force from the hammer. The steerer is also has a 33% greater circumference, so on a 1.5″ steerer there'll be more friction than with a 1-1/8″, so it'll take more force overall to set the race in place.
That all said, at less than $5 for making one yourself versus ~$70 (online prices) for buying a steel one, and still ending up with an effective tool, this is worth making.