Originally this post was going to be about my new road bike, but instead I'm writing a warning about the new Soma Smoothie HP and a safety issue, recommending against buying it without fully understanding the possible downsides. While the specs of this frame promise to be an excellent modern steel road bike, it has a design problem that can lead to rear brake failure.
Specifically, the location of the brake housing mounts results in the front derailleur cable resting on the brake cable at a mount. Over time movement of this cable can cut into the brake hose/housing, cable clip/tie, etc. If not caught in time this can lead to brake failure.
I purchased one of these frames and have been excitedly building it up, finding this problem late into the build when preparing to run the shift cables and brake lines.
When I brought this up with Soma seeking for a solution, they dismissed the issue, saying they identified this interference during frame development, but that it's not concerning to them. Stan, with Soma, instead suggested that I rely on the cable tie (as seen above) to mitigate the rub, that rubbing through a brake hose or housing will take a long time, and to add additional material (rubber cable donuts or tape) to the cable if I am worried about it.
I disagree, as any component that's designed to move should not have unintentional rub, particularly not against a safety-critical system like a brake. A frame should be designed to avoid this; it should not be necessary to bodge in rub protection to stave off cables cutting into other housing.
The photo at the top of this post is of Soma's prototype build and shows the interference and their reliance on the head of a cable tie for keeping the shift cable in place and away from the brake line. Beyond the safety issue of the front shift cable rubbing on the brake line, the cable does not have a clean path between the upper stop and lower guide, which can lead to shifting issues.
While it would be possible to build this frame up as a 1x (no front derailleur) system to avoid this interference, I want this to be a double-chainring road bike (Shimano 105 R7000) and thus is not an option for me. Or one could go with wireless shifting, but due to cost this isn't an option for me either.
I really wish Soma had fixed this interference when they first identified it, or at least mentioned it in their documentation so I would have passed on buying the frame. All it would have taken is moving the brake routing to either the centerline (like on this Lynskey) or much further up the downtube (like on my Salsa Vaya) and it'd have been solved.
After I found this a good friend reached out to me, and I've since passed the frame on to him. He was looking to build an wireless shifting road bike with fenders, and this will work out perfectly for him. With the electronic shifting he won't run into this cabling issue.
For those considering this frame, unless you are going with wireless shifting, a 1x setup, or are willing to deal with the compromises of a shift cable rubbing on a brake housing/hose, I suggest that you look elsewhere.
---
Here (PDF) is the full email thread with Soma.
Below are photos showing the interference on my frame. These were taken when the build was nearly complete, while I was planning cable routing. These photos are when I first realized the problem and reached out to Soma.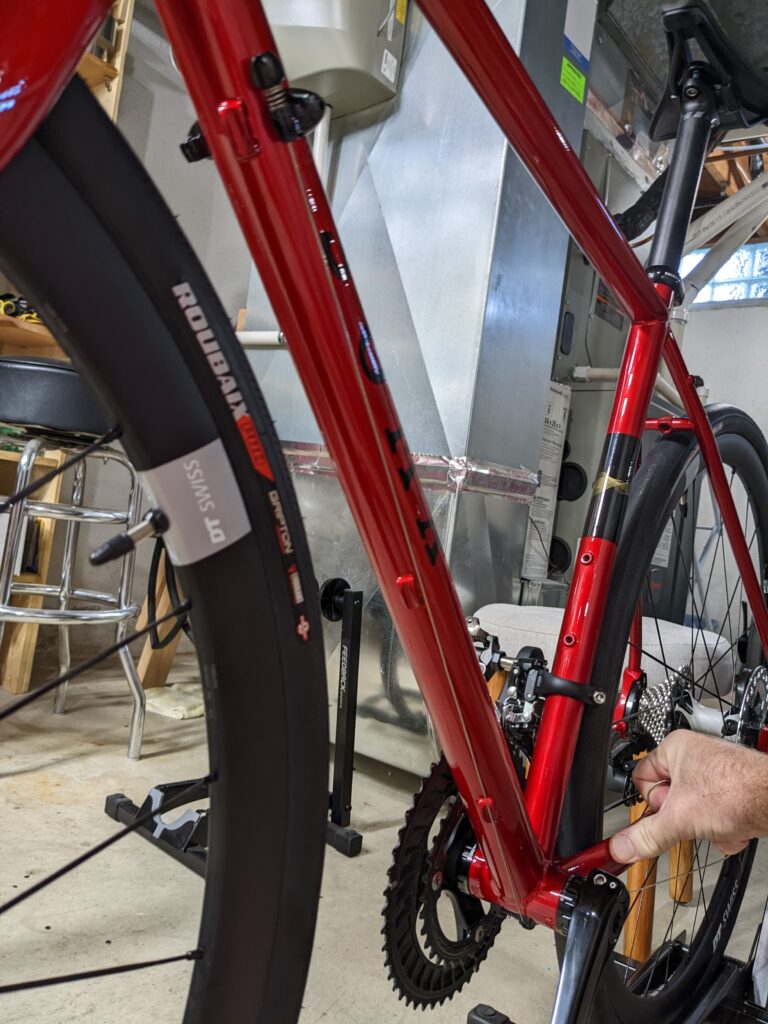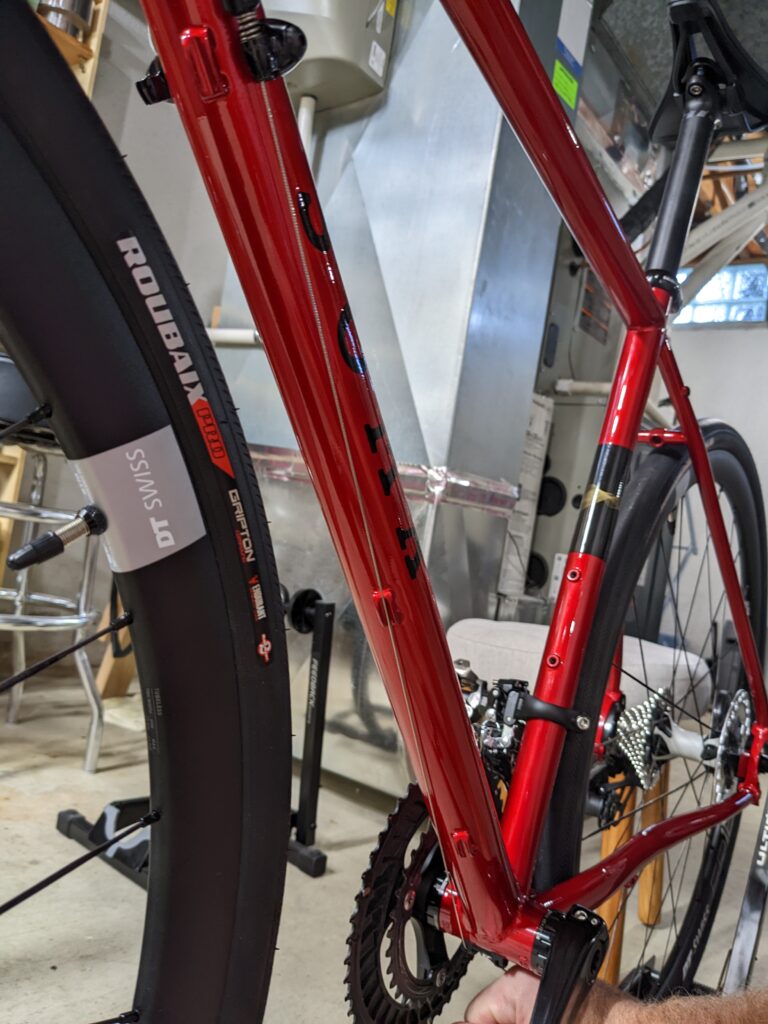 Comments closed