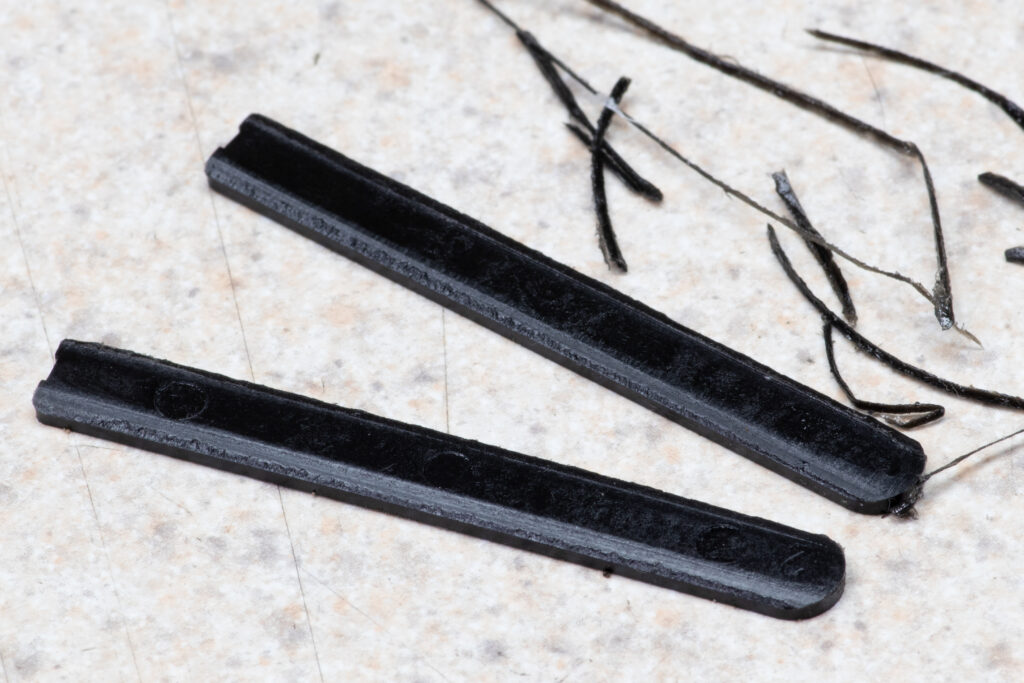 The Bontrager Line Dropper Seatpost, as fitted on Kristen's Trek Fuel EX 9.8 Women's (mirror) is a quality dropper, and I'm particularly impressed with the way built-in sacrificial parts fail when the saddle is hit hard from the side. Over the summer Kristen has had a couple crashes which, due to hard impacts on the side of the saddle, damaged the dropper. After the first crash the saddle (and inner part of the dropper) would turn easily to one side, and after the second the saddle had a bunch of side to side play, and could be turned to the side fairly easily.
On this dropper there are two plastic keys that slide in grooves in the outer tube as the saddle moves up and down. They keep the saddle from moving to the side, are designed to fail when the saddle is hit hard from the side. By using a sacrificial part like these plastic keys, Trek/Bontrager's designers have a dropper which works well, but only costs a few dollars to repair after a damaging crash.
The key set, part number 572184 and $5.99 MSRP, is replaced by removing the seatpost from the bike, unscrewing the bottom of the post by hand, then unscrewing the retaining ring at the top of the post with a strap wrench. Sliding off the outer tube reveals the keys, which can be popped out with a pin or a razor blade. Wiping everything down, fitting the replacement keys in the groove, lubing with Slickoleum, then putting everything back together is all that's needed to repair the dropper to like-new condition.
The photo above shows a pair of damaged keys, along with the plastic shavings cleaned out of the dropper after a failure. The rounded edges on the keys show where they fail when overloaded, and the shavings are the remains of the once-sharp edges.
I'm really happy with this dropper. It works well, it's overall pretty cheap, is easy to disassemble to repair after a crash, and replacing the main cylinder should be just as easy, whenever it comes time for that.