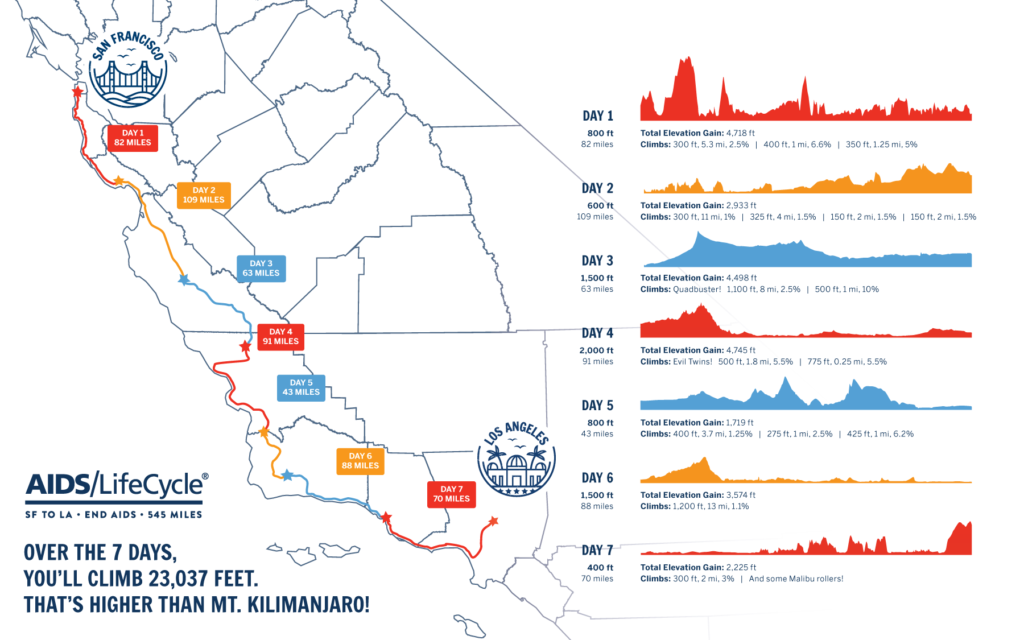 Years ago Mark Ferlatte told me about the AIDS/LifeCycle (Wikipedia) charity ride from San Francisco to Los Angeles to raise money for the San Francisco AIDS Foundation and the Los Angeles LGBT Center. Money raised by this event allows the two non-profits to provide free HIV/AIDS medical care, testing, and prevention services. Each rider in the event raises at least $3000, with the event raising over $220,000,000 since it began in 1993.
At 545 miles over seven days, riding everywhere from the Pacific Coast Highway to proper California mountains, this sounded like it a wonderfully fun way to see a new part of the country, really enjoy being outside, and most importantly raise money to directly help save lives. But, it always seemed like such a logistical challenge that fell into the back of my mind as a one-day-in-the-future goal.
Well, here we are, and 2022 is the year!
This year Kristen and I are both signed up for the 2022 AIDS/LifeCycle ride! On June 5th we will set out from Cow Palace in San Francisco to spend the next week pedaling through one of the most beautiful parts of the country with a couple thousand other folks, all of us with one goal: helping those with HIV/AIDS.
This is where we need your help. Specifically, we need money.
Kristen and I each are working to raise least $3000 through donations from people like you. We all give money to trails, trail organizations, and other groups which help make our lives more fun and enjoyable. Please join us in also giving a bit more to save lives, so everyone can have a great life.
Please click one of these links to donate: Steve • Kristen
(Donations are to a non-profit, and thus tax deductible.)
Thank you for your help, and for making the lives of those with HIV/AIDS better!