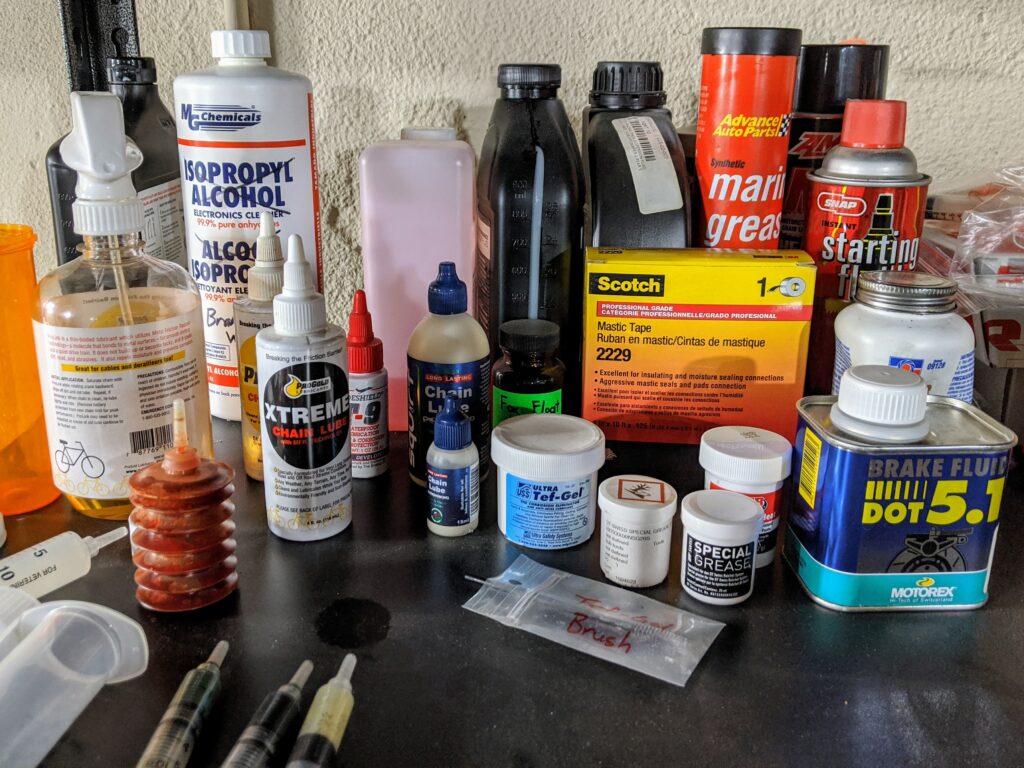 Here is a list of the lubricants I use for bicycles and a few notes about each one.
General Grease
Park Tool PolyLube 1000 (PPL-1, Tube)
Use for general greasing. Threads of fasteners, coating bearings before installation, etc. This is a go-to grease that gets used on everything unless there's a specific need for something special.
Chain Lube
ProGold ProLink Chain Lube
Use for all chain lubing purposes. As this lube is a heavier oil in a lighter carrier, I use the following process: Wipe chain with dry paper towel to remove dirt and old lube. Wipe chain with alcohol-soaked paper towel if it's particularly dirty. Apply one drop to each roller on the inside of the chain. Turn crank backwards for 10-15 seconds to ensure lube is well distributed. Use a new dry paper towel to wipe off the outer plates of the chain (lube does nothing here). Let sit for a while, perhaps overnight, before riding so the the volatile compounds in the lube can evaporate leaving only the useful stuff. It'll pick up less dirt this way, too.
Waterproof Grease
PEAK Synthetic Marine Grease (branded as Advance Auto Parts Marine Grease)
Used whenever a heavy, highly water resistant grease is needed. I use this on the lower bearing on headsets, bottom bracket spindles, car hitch racks. Use with caution as this grease attracts dirt, thickens, and migrates pretty easily and thus isn't good for basic lubricating. (Any standard marine grease will work in place of this, the Advanced Auto Parts version was the cheapest when I bought some.)
Anti-Seize
Permatex Copper Anti-Seize Lubricant
Anti-seize is a grease with metal powder in it, used to inhibit galvanic corrosion when dissimilar metals are in contact. Instead of the original parts corroding the small metal flakes in the grease will corrode, prolonging the life of the parts and preventing seizing. I mostly use this on titanium frames as it'll quickly corrode aluminum parts (such as headset cups, bottom brackets, seatposts, and mounting screws) but also use it on steel and aluminum frames when installing press-fit headsets and threaded bottom brackets, as a preventative measure.
Suspension Grease
Buzzy's Slick Honey / Slickoleum / SRAM Butter
All three of these products are the same thing. It's ideal for lubricating anything that slides or is suspension-related. Also works great on dropper posts. It's also an ideal lube for Hope freehubs.
Small / Fine Parts
Tri-Flow Superior Lubricant (Drip Bottle)
This is a very thin lube which carries PTFE (Teflon). Perfect for lubricating small pivot points such as derailleurs and shifters.
DT Swiss Ratchets
DT Swiss Special Grease (Red, HXTXXX00NSG20S)
DT Swiss hubs, with star ratchets, specifically call for a tacky, yet somewhat thin, red grease which DT Swiss calls Special Grease. So little is used on each cleaning that a small container, one of which comes with every replacement ratchet set, will last for years.
Friction Paste
Finish Line Fiber Grip / Park Tool SuperGrip (SAC-2)
Sometimes things slip when you don't want them to (eg: seatposts, bars) or you want to add extra grip without torquing tighter. Friction paste, a light grease with sandpaper-like grit in it, is perfect. It's common to use this on the handlebar clamp part of a stem to ensure the bar doesn't move, on seatposts in carbon frames, etc. Never use this on anything which is supposed to move, and be aware that it'll abrade the clamped surfaces of whatever you apply it to.
Spoke Nipple Lube / PTFE Paste
ULTRA Tef-Gel
When building wheels I lube the spoke threads with ULTRA Tef-Gel, which is a PTFE (Teflon) paste. Designed for use on saltwater-exposed fasteners, this is an incredibly tenacious anti-corrosive that keeps spokes and nipples from binding together doubles as lubricant during assembly. Use ensures they'll still be turnable after years of year-round exposure. This also works well for installing press-fit bottom brackets which call for PTFE paste.