Last updated on December 27, 2020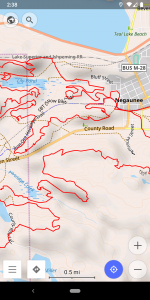 Many of the popular, long cycling events — or even just solo rides — require a GPS so that one can follow a route in order to navigate. While most of us have bike computers that will show the route, most folks don't have a GPS with the kind of detailed base maps that become useful for detours, emergencies, or just as an additional tool… Much less something that works when outside of cellular coverage areas.
For this, I recommend you look at offline maps using OsmAnd.
I have (and love) the Garmin Edge 130 as it's perfect for my riding and training. It's been great for displaying recording data and following routes from the unmarked 100 mile versions of The Crusher and Barry-Roubaix, to augmenting signage in Marji Gesick and following a route through remote parts of Batchawana River Provincial Park. But occasionally I need a bit more; something to help find a detour around a flooded road, a quick way back to the car in a rainstorm, or just a sanity-check of which branch to take at a fork on the road.
Sure, I could buy a super-high-end bike computer that features detailed base maps, but I rarely need these and don't want the physically large computer on my bike. So I use my phone, running OsmAnd, loaded with offline maps that display without requiring a data connection. Coupled with putting one's phone in Airplane mode (turns off the cellular and WiFi radios and saves battery — yet GPS still works) a modern phone will typically get days of battery life while sleeping, with maps and a route quick to access.
Whenever I actually need to see this map I simply pull it out of my pocket or bag, wake it up, get what I need from the map, and carry on. No screwing around with a small touch screen and funky zooming on a Garmin or Wahoo. (I believe that, to date, neither Garmin nor Wahoo have made map perusal as straightforward as it is on a basic mobile phone.)
This is also a great way to get maps on your phone when traveling somewhere costly for cellular data, like during a day-trip to Canada.
Whether you're doing Marji Gesick or The Crusher or just following a route found on a cycling club's website, I recommend augmenting your navigation with offline maps in OsmAnd by doing the following:
Visit the OsmAnd site and follow the links to your phone's store to install the software.
Get a copy of the GPX file on your phone; for Android phones this is often as simple as visiting the download website and downloading the file.
In OsmAnd's menu, pick Download Maps and download maps for the regions you want. I personally have Standard Maps, Contour Lines, and Hillshades for Michigan installed all the time, and then if traveling will install for other states/provinces/countries.
Once the offline maps are installed, pick Configure map from the menu, then Map source, and ensure Offline vector maps are selected. The default, OsmAnd (online tiles), is an online map source that requires data.
To display a particular route, pick GPX files…, Add More…, and then browse your phone to add the downloaded GPX file. Ensure this file is enabled (checked), and then go back to the map screen.
You'll now see the route overlaid on offline maps, easy to zoom in and out of and find your way around. Try turning on Airplane Mode and see that it all still works.
Once I have everything set up, here's some tips about how I actually use OsmAnd while out on my bike:
If in an area with minimal or no cellular service, put the phone in airplane mode so the battery doesn't get used up while it searches for a signal.
Turn off all lock features on my phone (fingerprint / pattern / PIN unlock), so I can wake it up with just a press of the power button.
You can use this at the same time as Strava, and Strava generally works in Airplane mode as well.
If I'm at a spot where I'm not quite sure which way to turn (based on the single line on my Edge 130), use the map to figure out which branch to turn on. Even the remotest of fire roads and two track are often mapped.
If I think I might have missed a route sign (say, in Marji Gesick) I'll use OsmAnd to see if I'm still on route, and to get back if needed.
Look for other nearby roads or trails if I need to detour or shortcut back. I had to do this yesterday during the Founders Fall Fondo as part of the 62 mile Barry-Roubaix route was flooded.
Many small, old, sometimes abandoned, yet somewhat navigable roads are still listed in the OpenStreetMap (OSM) data that OsmAnd uses. While these aren't great for cars and won't show up on things like Google or Apple Maps, they are often quite useful when on a bike. Look to these for exploring / finding new routes.
Many trails open to mountain bikes are included in the OSM data. This includes all CRAMBA trails and most trails in the NTN and RAMBA areas. (Note: Trailforks is a better source for discovering MTB trails themselves.)
Periodically update maps to get new OSM data. As roads and trails change, maps get updated.
Pay For OsmAnd+ Live ($5.99/year) to get access to more-frequent, automatic map updates and support the open mapping community. 
While this is just a basic overview of using OsmAnd and how I use it when cycling; it does a whole lot more including recording routes, navigation, editing map data, sharing location between contacts, and more. Give the online Help and Features a look for more information.