It's not uncommon to find lengthy articles about problems people have had with companies, but it does seem rare to find lists of companies which have done a nice job handling customer service. What I hope to do here is provide a list of companies which have provided me with good customer service, often going above and beyond what one would normally expect from said company.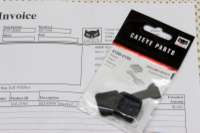 CatEye
At the beginning of 2008 I purchased a new CatEye Strada Wireless Bike Computer (Rd300w) to go on my new bike. It's worked fine, but after a few cycles of clipping / removing it the retention clip in the bracket used for mounting the computer broke and the computer would no longer stay in the bracket. While CatEye sells the brackets in their small parts store, I didn't feel I should have to pay for a part that failed so quickly.
I emailed a photo of the broken bracket to Cateye's service department explaining what had happened, and within two business days I'd received a reply stating that while the clips are currently out of stock, CatEye will send me one as soon as they are back in stock.
About a week later I received a padded envelope in the mail containing a replacement bracket. While the bracket shouldn't have failed in the first place, it's nice to deal with a company that didn't just blow me off because the item I'd purchased only cost $30.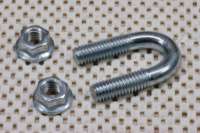 Draw-Tite (Cequent Towing Products)
Not long after I purchased my new bike, my girlfriend Danielle also purchased one, a 2007 Electra Townie 3. In order to transport both of our bikes I fitted my car with a Draw-Tite branded hitch from Cequant Towing Products. After installing it I acquired a cheap torque wrench. Because I wasn't familiar with torque wrenches like this, I didn't realize that one has to "exercise" the wrench a few times before each use to ensure that it's properly clicking when reaching appropriate torque.
Because I didn't realize this, and didn't have a good understanding of what the 20 foot pounds I should have been applying felt like, I managed to break off one of the U bolts after greatly overtorquing it. This particular U bolt is a 3/8-16 thread with a 9/16" spacing between the legs, which doesn't seem to be available from any of the normal suppliers such as McMaster-Carr or Grainger. After having no luck trying to find the bolt elsewhere, I ended up giving Plattsburgh Spring, the company through whom I bought the hitch, a call. They directed me to call Cequent Towing Products directly, and after a short hold with their technical support group, I explained to the individual on the phone what happened.
After a brief conversation he said that he'd send me out a new bolt, or possibly an entire new fastener kit if that was all he could make happen, and that's exactly what happened. Two days later I received a box via UPS Ground containing the new hitch mounting kit, and I was able to easily (and properly) mount the replacement U bolt.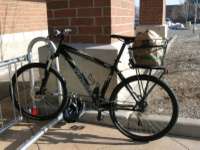 VG's Food & Pharmacy
Not far from my house is a VG's Food & Pharmacy grocery store, located in a building which had formerly housed a Farmer Jack at 23 Mile and Schoenherr. Since reacquiring a bike I realized that for most of my grocery shopping I can just ride to the store with a basket on my bike and ride back, as long as there are facilities at the store for securing my bike.
After opening VGs didn't have a bike rack, so I submitted a note via the contact form asking if they would consider installing a rack. A day later I received a response from Mr. Bill Ogle stating that they had missed installing one when opening the new store and would put one in place as soon as possible.
Two months or so later, just as the weather was regularly getting above freezing, I noticed a bike rack just to the right of the front door of the store. Now I can easily ride up to the store, securely lock up my bike and helmet, and grab some groceries without the hassle of driving. As the prices at VGs are generally in line with those of other area grocery stores, there really isn't much of a reason to go elsewhere for most things either.