WORK IN PROGRESS: This document is a work in progress and currently only a collection of notes. Do not presume that anything on this page is accurate.
About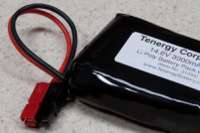 SanDisk V-Mate
Remote control worked terribly at first. After replacing CR2025 battery in remote control with a brand new one it's now just fine.
Firmware updated from 01.13.en to 02.07.ww.b8 which made the menu faster and introduced a preview prior to recording.
3.5mm TRRS, from tip: Left, Video, Ground, Right.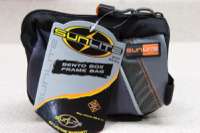 Sunlite Bento Box
The Sunlite Bento Box Frame Bag was selected to hold the SanDisk V-Mate, battery, and power supply. Purchased for US$11.95 (shipped) from eBay seller buildyourbike. This bag straps to the top tube and steerer of a bicycle; a perfect location for holding recording equipment close to a bar-mounted camera.
This bag is much lower cost than many other similar bags, but it's simple square shape, single large zipper, and lack of mesh top (unlike other bicycle bento box-type bags) makes it perfect for holding electronics. It is roughly 3" x 4" x 6" and has a some retroreflective piping called 3H made by PAIHO. It is clearly a 3M Scotchlite knock-off.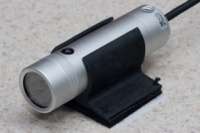 Viosport Action Cam 3
Cable with 3.5mm TRRS, same as V-Mate with standard from tip Left, Video, Ground, Right.
$80 from MMBA forum member winbert.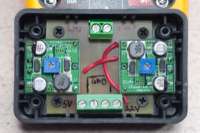 Power Supply
4 Position Phoenix Terminal Block: Mouser 651-1729144
2 Position Terminal Block: Digi-Key ED1930-ND
14VDC - 24VDC input, 12VDC and 5VDC output.
Custom PCB etched with nail polish as etchant resist.
Powerpoles for connection to battery.
Barrel connector for power to #Viosport Action Cam 3 (Nmm x 2.1mm).
Recording Length Test
4GB Card Test. Kingston, Class 4, microSDHC. Formatted card as FAT32 in Disk Utility on OS X to blank. Inserted, started recording. 4:27:56 of video before red recording LED began blinking fast and card was full. Resulting video was playable under QuickTime.
Measured Peak Power Consumption
Viosport Adventure Cam 3:

125.3mA @ 12VDC (1.5W)

SanDisk V-Mate (SDMV1-R):

328.8mA @ 5VDC (1.65W)

Power Supply w/ Camera and V-Mate Recording:

XmA @ 14.XDC (X.XXW)